Techsew 5150 Sewing Machine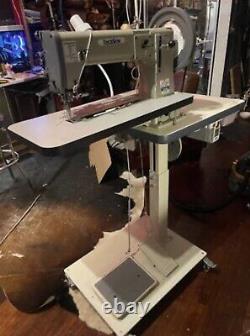 The Techsew 5100 leather stitcher is the ultimate sewing machine designed for sewing a wide range of leather products. Light range leather work: Purses, handbags, pouches, wallets, notebook covers, vests. Medium range leather work: Belts, knife sheaths, scabbards, quivers, horse blankets. Heavy range leather work: Saddles, gun holsters, knife sheaths, harnesses, horse tack. Additionally it is great for sewing heavy nylon straps, boat/car covers, orthopedics, thick paper binding, parachute harnesses, tarps, vinyl, canvas, synthetics, heavy webbing and more.
The 5100 is equipped with the Techsew SmartServo motor, which features 1 HP and 16 different speed settings up to 1800RPM. This motor allows the user to sew stitch by stitch if desired while still maintaining enough power and torque to sew through thick materials up to 7/8.
Additionally, a speed reducer is used in combination with the SmartServo motor for added torque and speed control. This system is ideal for beginner, intermediate and expert sewers as well. Triple Feed - Walking Foot (needle feed + alternating presser feet + bottom feed). Sews from 5-6oz all the way up to 7/8 thick. 16.5 long cylinder bed. Stainless steel specialty presser feet (left toe foot + double toe foot + center groover foot). Equipped with Techsew SmartServo motor and speed reducer to sew at slow & controlled speeds - great for novice, intermediate and professional sewers.
Reverse lever for reinforcing stitches. 12 inch heavy duty flywheel. Reinforced steel pedestal style table with adjustable height (sew standing up or sitting down). Includes complete table with casters, SmartServo motor, speed reducer, TS-28 LED lamp, 1 package of needles, 3 bobbins, thread lube pot, left toe foot, double toe foot, center foot, spool of bonded nylon thread, oiler, instruction manual, repair tools.
Stitch length adjustment up to 11mm (7/16). Uses thread sizes 69 to 415. Uses needle sizes 18 to 27. Needle sizes: 18 to 27. Thread sizes: 69 to 415. Sewing capacity: 5oz to 7/8 thick. Cylinder bed length: 16.5. Techsew SmartServo motor: 750W, 1HP, 110V.

---