Sewline 5-1r New Heavy Duty Cylinder Bed Large Thread Industrial Sewing Machine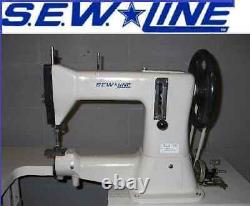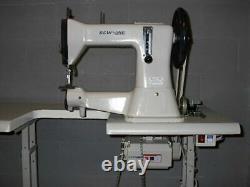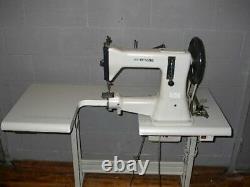 One Needle Cylinder Bed Machine With Reverse Stitching. Heavy duty machine with lower feed. Perfect for heavier applications and larger heavier threads up to size 350.
Lower Feed Or Drop Feed. Uses size 69 to 350 thread sizes. For sewing medium to extra heavy materials including leather, canvas, etc. New Heavy Duty Industrial Special Cylinder Bed Cut Table.
New 110 Volt SEWLINE Energy Saving Servo Motor. Quality Made Industrial Cylinder Bed Machine. Top quality made heavy duty industrial sewing machine.
Suitable for heavy materials like canvas, leather, vinyl, synthetics laminated and rubberized fabrics. Recommended for sewing tubular and curved work. Designed for larger or thick thread. Good for tents, saddles, harnesses, slings, boots, auto, boat, furniture, upholstery, sails, parachutes, balloons, inflatables, industrial bags, camping equipment, etc. This is a new machine with all new accessories and instruction manual.
TOTAL is For Complete New S. Quality made heavy duty one needle cylinder bed industrial sewing machine.

---