JUKI LZ-2280 Industrial Zig-Zag Sewing Machine, Servo Motor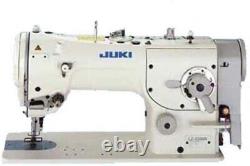 The Juki LZ-2280N is a single-needle, zig-zag industrial sewing machine. Manufactured in Japan by Juki, a world leader in sewing quality and technology, this machine is edeal for sewing light to medium weight fabrics (not inteded for heavy fabrics).
This machine is used only for zig-zag stitching and is not intended for straight stitch sewing. With the addition of a servo sewing motor, this unit is whisper quiet and ideal for in-home use. Please be advised that this is industrial equipment.
Minor blemishes and scratches on the table and legs may occur during the production process, and these do not indicate any defect or deficiency in the operation of the unit. Table color may vary depending on availability.
Unit dimensions (LxWxH): 48 inches by 20 inches by 48 inches. 110V with quiet servo motor.

---