SINGER 15-91 Industrial Strength HEAVY DUTY Sewing Machine LEATHER 1948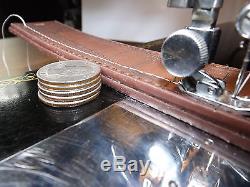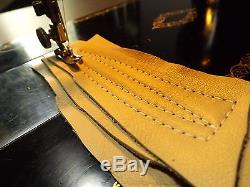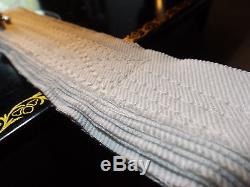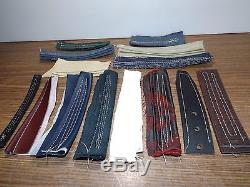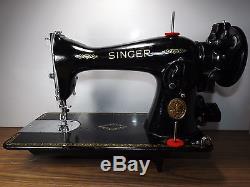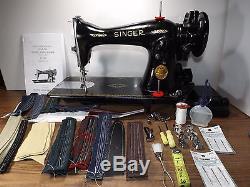 I repair sewing machines since 35 years! Famous SINGER 15-91 made in 1948. Ideal for soft leather & upholstery, general sewing, alteration shops, etc.
CAPABLE OF FEEDING LEATHER EASILY. FULL FACTORY ORIGINAL CONDITION AFTER 68 YEARS! Famous SINGER 15-91 made at the St-John's Singer Factory (Quebec, Canada) in 1948, this is a very good and strong machine ever made by Singer with it's all metal mechanism and it's powerful gear driven motor, built to last forever! The smoothness of operation is incredible and the powerful gear driven motor delivers the power and speed when you need it. Furthermore, in servicing/repairing sewing machines during the past 35 years, I never had to replace any major part on 15-91's except for bulbs, needle plates, etc.
Required to make a professional tune-up. This Singer 15-91 is a very user friendly sewing machine. The perfect condition mechanism will allow you to do almost any sewing project doing a very nice straight lock stitch. Be assured every single part of this machine was carefully inspected, cleaned and adjusted by myself on this machine. It was completely refurbished under the highest standards of excellence.
You will enjoy the smoothness of operation and it will run just fine for years to come! INDUSTRIAL STRENGTH HEAVY DUTY Singer 15-91 Serial Number JC438051. It uses standard needles, bobbins and LOW shank attachments available locally at any fabric store and sewing centers.
Everything needed to sew like needles, bobbins, and the samples used to set up will be included. This machine is ready to go, fully threaded, right out of the box!
GREAT for general sewing, alteration shop, general upholstery, boat covers, chairs and couch recovering!! It will sew what is under the foot, no hesitation! The included (clean photocopy of the original) manual will guide you to operate the machine.
It will be useful to thread, fill a bobbin, clean and oil the machine, select the right needle, clean and oil, etc. Top of the line sewing machine.
WITH A POWERFUL GEAR DRIVEN MOTOR. Uses regular (15x1) Sewing Needles. Easy threading and tension system. The stitch is very nice and tight on Soft Leather. This machine can sew thin to medium leather!
Ideal for automotive upholstery, airplane, bus and barber seats recovering and general upholstery. I used for all these samples the Coats S-964 Nylon Upholstery Thread which is strong, durable and rot-proof. Equivalent to the commercial size 69 thread. The maximum thread size this machine can use is SIZE 69. This is a powerful sewing machine!
Perfect stitch on top and bottom! SUPER SOLID AND SECURE STITCH! Many layers of thick denim (jeans) are EASY to sew!
Don't miss your chance on this one! Endless possibilities and so easy to use! Ideal for heavy clothing alterations, Drapery making, Camping Equipment manufacturing, Handbags manufacturing, etc. It will sew on very light materials like Chiffon, Tulle, Organza, Voile to light materials (Crepe de Chine, Faille, Muslin, Batiste, Percale, Flannel, Pique, Felt, Taffeta, Satin, Crepe, Eyelet, Organdy) & more.
On medium to heavy materials it will sew Velvet, Velveteen, Corduroy, Gabardine, Serge, Fleece, etc. When it comes to heavier materials, no problem on Drapery Fabric, Linen, Suiting, Burlap, Poplin Denim, Ticking and Canvas. MAKE A PERFECT STITCH RIGHT ON THE EDGE WITHOUT SLIPPING. YOU CAN MAKE PERFECT PIPING JOBS ON ALL YOUR UPHOLSTERY PROJECTS!
All the samples used to set up this machine are included! You will see the same kind of samples on all my listings, be sure they were sewn respectively with each machine and that all the samples are included with the sale.
I use a wide variety of samples to set up my machines. This way chances are the machine will sew easily most of your projects. This machine WILL NOT sew horse saddles, knife sheaths (hard and very dense vegetable tanned leather), hard tooling leather or other hard to pierce things: for this you need a post bed machine. It WILL NOT sew anything exceeding 5/16'' inch thick. NOT RECOMMENDED FOR LEATHER HORSE EQUIPMENT. The Description of this machine is VERY ACCURATE! This machine WILL DO what it is ADVERTIZED FOR. The space under the foot is 5/16'. This machine will last SEVERAL generations!
This is an extremely WELL MADE machine in absolutely TOP MECHANICAL CONDITION. It will last several generations without spending anything on it. This machine is freshly oiled, adjusted and balanced to the perfection, threaded and ready to sew!
6 ULTRA High Quality #2518 Metal Bobbins. 1 High Quality Zipper-Cording Foot. 1 High Quality Edge Stitch Foot. 1 High Quality Adjustable Seam Guide. 1 Best Quality Pack of 3 All Purpose Needles.
1 Best Quality Pack of 3 Heavy Needles (canvas, leather). 1 Best Quality Oiler (filled with high quality sewing machine oil). 1 Best Quality Lint Brush. 1 Best Quality Set of 2 Screwdrivers (large & small).
1 Best Quality Spool of Coats S-964 Nylon Upholstery Thread. 1 CLEAN PHOTOCOPY of the original Singer 15-91 Instruction Manual. The electrical system includes a powerful, rebuilt GEAR DRIVEN motor with a perfect condition Rebuilt Foot Pedal and brand new wiring. The Sewing Lamp is in perfect working condition and was completely rewired. THE ELECTRICAL SYSTEM (120 VOLTS) IS THE SAME FOR CANADA AND U.
This machine has some paint chips. This does not affect at all how it sews!
Adjustable Stitch Length and Reverse. Perfect condition Bobbin Winder with brand new friction ring.
All steel mechanism built to last forever! This machine will NEVER be out of timing with it's Pinned Shafts. COMPLETELY REFURBISHED, READY TO SEW! This machine has its original cabinet/carrying case mounting screws for cabinet or carrying case installation..
It can also lay on any surface without any case or cabinet. I recommend you to put a rubber mat underneath not to scratch anything. PLEASE NOTE: I DO NOT SELL CARRYING CASES OR CABINETS. NEED HELP FOR YOUR ACTUAL MACHINE?
Professional packing WITH INDUSTRIAL MATERIALS. PARCELS ARE SHRINK WRAPPED TO PREVENT MOISTURE OR WATER DAMAGE.
You will receive your machine like it left here: in PERFECT condition! I hope to serve you very soon!
Your Satisfaction is my First concern! The item "SINGER 15-91 Industrial Strength HEAVY DUTY Sewing Machine LEATHER 1948" is in sale since Sunday, September 11, 2016. This item is in the category "Business & Industrial\Manufacturing & Metalworking\Textile & Apparel Equipment\Sewing Machines".
The seller is "alcnational" and is located in Quebec. This item can be shipped to United States, to Canada.
Brand: Singer
Model: 15-91
Type: Sewing
Operation: Mechanical
Country/Region of Manufacture: Canada
Duty Level: Heavy Duty

---