Remington Sewing Machine Industrial Strength Sews 1/4 Leather withAccs, Thread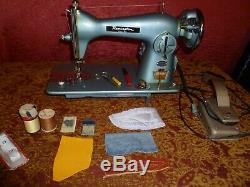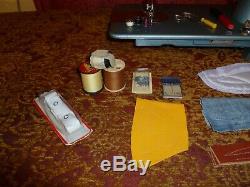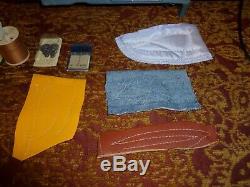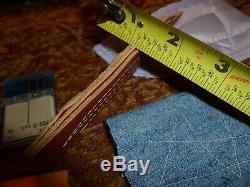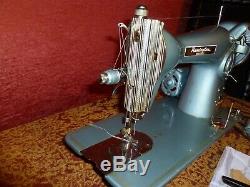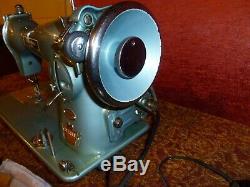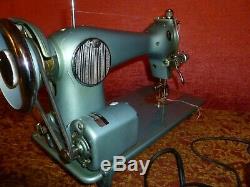 Remington Sewing Machine Industrial Strength Sews 1/4 Leather. This Remington sewing machine sews smooth as silk, yet it will blitz through 1/4 inch heavy weight leather! Yes, that's right, and for you leather workers out there, that's 16 ounces of thickness. That's why I labeled it as industrial strength. There are few consumer machines that can that do what this one does, and I even used an old needle.
I will even include some furniture/leather grade thread as well. Okay, here is the back story to this machine. It was in an upstairs bedroom, the roof had a hole in it and the rain was dripping on the cabinet. One hinge had broken away, and it was literally hanging upside down on its good hinge. The hinge holes on the machine are still good, but the hinges were shot. If you have a standard cabinet, this baby will fit right in, no sweat, and if you don't, it will sew just the way it is.
Amazingly enough, because it was protected from the moisture, the finish is still remarkably intact. Sure, some dings and scuff in places, but not many, and you can see how terrific it looks in my pics. All in all, it is a very good looking machine. And because there is no booklet, although it is super easy to use, I'll keep it threaded just as you see it in the pic.
So, lets take a look at the swatches that I sewed, shall we? The golden swatch is canvas, which means for tent or sail repair (take note of that all you sailors out there) this machine will get the job done. The upper white swatch is shoulder padding from a blouse. It is much the same composition as a quilt, so if there are any quilters out there, you won't find a better quilting machine.
For jeans repair or applique, that blue swatch is denim, and needless to say, it sews through denim like butter. Last, and certainly not least is that brown leather swatch. The tape measure doesn't lie, and when I say it will go through 1/4 inch leather, I mean it.
Better still, it did not miss so much as one stitch. So if you work with leather at a 1/4 inch or less, this is the machine for you.
Hey, you can't beat solid metal gearing for heavy duty sewing, and that's exactly what this has. Now, to make sure it runs like a top, I have lubed up every moving part, including the hook and shuttle, the bobbin winder -- which was tested with the bobbin I used -- and I even lubed the motor bearings. Needless to say, when you step on the gas, this baby moves out! It's up to you.
Hey, if you need a heavy duty all metal geared sewing machine, that will sew things such as canvas denim and 1/4 inch thick leather, for the price you are going to pay, you won't find anything better. The item "Remington Sewing Machine Industrial Strength Sews 1/4 Leather withAccs, Thread" is in sale since Wednesday, March 4, 2020. This item is in the category "Crafts\Sewing\Sewing Machines & Sergers".
The seller is "danddsdomestics" and is located in Milwaukee, Wisconsin. This item can be shipped to United States.
Brand: Remington
Suitable For: Leather
Type: Sewing
Class: Industrial

---