HEAVY DUTY INDUSTRIAL STRENGTH SINGER 15-91 SEWING MACHINE Denim Upholstery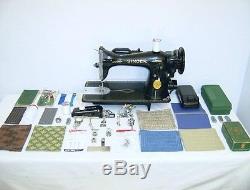 INDUSTRIAL STRENGTH SINGER CLASS 15 SEWING MACHINE. INDUSTRIAL STRENGTH Singer 15-91 Straight Stitch (with reverse feed) Sewing Machine, serial number AJ749747, born July 11th, 1950 in Elizabeth, New Jersey.
With it's steel shafts, gears, and Class 15 bobbins with the time proven Oscillating Hook System, and direct gear driven internally potted motor, this machine is ready to work and work hard for you for years to come. Machine shows well with less than average wear and tear for a machine from this era (normal hazing and spider cracking in the wax finish, and some of the chrome work is begining to show it's age). Gold stenciling is in 98% condition. Runs strong and penetrates dense material with ease, and is loaded with authentic Singer accessories. Comes with an original Singer Buttonholer Attachment Set which allows you to make perfect button holes the first time, every time. Machine has been cleaned and lightly oiled with Authentic Singer Machine Lube and has had the timing and tolerances checked and is perfect. The one is a workhorse, not a museum piece. It may not be the nicest looking 15-91 we have had, but it is one of the best running one's I have seen in a long time, with loads of that vintage Singer power. Sews a perfect stitch, top, bottom, circles or straights. Working original light focuses right on your work area. Very nice cords and original Singer foot controller. Feed dogs are lowerable with a simple thumb screw on the underside for Darning, Embroidery, and Freehand work. This will guide you through the process of threading the upper needle thread as well as filling the bobbin and selecting the right needle and tension settings for the job at hand. It really makes sewing like a pro easy. Most importantly, it will show you exactly how to lube, disassemble, reassemble, and maintain your machine so that it will last another 66 years. This machine is 100% ready to go, right out of the box. Everything needed to sew, including needle and thread and the samples sewn in these pictures, will be included in the package. As an added bonus, included will be, (1) Singer Model 15-91 Attachment Set, (1) Combination Zipper/Cording Foot, (1) Singer Straight Stitch Foot, (1) Singer Buttonholer Attachment Set, (4) Steel Industrial Sized Bobbins, (1) Original Singer Model 15-91 Owners Manual, (1) Brand New Bottle Of Singer Sewing Machine Oil, and all other pictured accessories. Be sure to check my other listings for more fine Sewing Machines and Accessories.
5/16'' OF SPACE UNDER THE FOOT! Comes With A Singer Buttonholer Attachment Set.
No One Makes Them Like This Anymore. This machine will sew light leather, tarps, sunbrella, tents, boat covers and sails, canvas, suede, heavy jeans, automotive upholstery, just about anything. 8 Layers Ivory Automotive Upholstery 8 Layers Olive Outdoor Canvas 8 Layers Green Furniture Upholstery 8 Layers Brand New Denim 8 Layers Brown Upholstery 4 Layers Blue/Gray Corded Vinyl 3 Layers Blue Webbing 4 Layers Heavy Marine Vinyl 2 Layers Vegetable Tanned Leather Sewn With #18 Needle, and Size 69 Upholstery Thread.
You Are Ready To Begin Even Your Biggest Projects With The Included Size 18 Heavy Duty Needles, Size 16 Denim Needles, And Upholstery Thread! Here is a sample of some Upholstery Cording I did on this machine.
One hour on this machine and you will be doing these like a Pro too. First, you take a small strip of your Material and wrap it around a stretch of cording rope, and sew it tight with the included Special Zipper/Cording foot. Then, blanket that in two more layers of your Material and sew it tight against the Cord once more. Then trim your excess, and you should have a nicely corded piece. With this machine and the included attachments, you will be able to do your own Upholstery work like a Pro with just a few hours of practice.
All metal cam-driven, this machine's workings are as tough as they come! The Included Singer Attachment Set Means You're Prepared For All Your Projects. Steel Industrial Sized Bobbins and Time Proven Oscillating Hook System.
It is water resistant and incredibly strong and made for indoor and outdoor use, such as but not limited to, car seats, furniture upholstery, boat covers, horse and pig blankets, car covers, motorcycle seats, repairing sails and tarps, etc. 6 to 30 Stitches Per Inch With Reverse. Perfect For All Your Webbing Projects Repairing Sails, Tents, Packs, etc.. MACHINE IS BUILT WITH THE EXPERT CARE AND KNOWLEDGE THAT HAS MADE SINGER THE BEST-KNOWN AND RESPECTED NAME IN SEWING MACHINES THE WORLD OVER FOR MORE THAN 150 YEARS.
ACCORDING TO THE SINGER MANUAL THIS MACHINE SEWS DELICATE FABRICS SUCH AS. SEWS LIGHTWEIGHT FABRICS SUCH AS.
SEWS MEDIUM FABRICS SUCH AS. SEWS HEAVY FABRICS SUCH AS.
SEWS VERY HEAVY FABRICS SUCH AS. Made In The USA When Things Were Built With Pride.
Graduated Dial Tension System For Accurate Settings Every Time. 4 Layers Heavy Marine Vinyl. 2 Layers Vegetable Tanned Real Leather.
8 Layers Of Denim Sewn On This Machine With Ease. Industrial Strength in this case means extremely strong, which means this machine is not an industrial or commercial sewing machine, but powerful enough to work as industrial. That is the definition of "INDUSTRIAL STRENGTH" from Webster · Oxford · Cambridge.
Keep in mind, these machines are used and 50 to 70 years old, and will show minor wear and tear appropriate for a machine of that age, even if not evident in the pictures. Singer Model 15-91 Atttachment Set. 4 Steel Class 15 Bobbins. Singer Steel 1/8 Roll Hemmer Foot.
Singer Multi Slotted Binder Foot. Singer Steel Edge Stitcher Foot. Singer Steel Adjustable Hemmer Foot. Size 18 Heavy Duty Needles. Original Singer Model 15-91 Owners Manual.
New Bottle Of Singer Sewing Machine Oil. Your opinions and feedback mean very much to us at Badgerland Sewing. Here's what a few of our recent customers have said about us. You can find all these responses in just the 4 most recent pages of our feedback (6-21-08).
Thanks again and keep it coming, We'll keep doing our part! I've already repaired my boat canvas! I was worried about ordering a sewing machine but it was packed great, thanks! A+++ The machine was immaculate.
Just as desribed and arrived quickly! My daughter loves the machine. Just what was listed, great ebayer. Pleasure doing business with you.
Arrived in perfect condition and as described. Sewing machine is in great working order.
Excellent shape with everything included to get started. Received in a couple days. Arrived safely with no problems, Thanks A+++++++++++++. At Badgerland Sewing we provide value.
Item will be very carefully packed to make sure it arrives at your end the same way it left ours. NOTE: I never offer second chance offers, so if you get one, it IS NOT from me!! Sorry, It's the Law. The item "HEAVY DUTY INDUSTRIAL STRENGTH SINGER 15-91 SEWING MACHINE Denim Upholstery" is in sale since Thursday, August 04, 2016. This item is in the category "Crafts\Sewing & Fabric\Sewing\Sewing Machines & Sergers".
The seller is "badgerlandsewing" and is located in Milwaukee, Wisconsin. This item can be shipped to United States, to Canada.

---